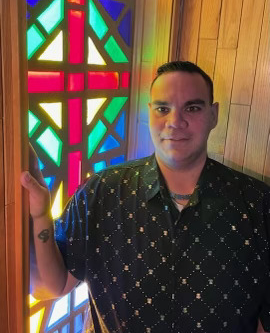 I was raised in New York and spent my summers with my Grandfather in Puerto Rico. I was truly
blessed to have a close family, the youngest of eight children. I went to college in Puerto
Rico and lived there till I was 28 years old. Moved to Texas and continued my studies and
embarked on the journey of finding out who I truly was.
I even studied Theology, it was through my studies that I learned to trust in God and not man.
When I met my husband he started going with me to church. We dated and had dreams of
having a family so we fostered and decided to get married but it was not yet legal in Texas. A
friend told us about a pastor in Albuquerque, New Mexico who did same sex weddings and that
is how we met Pastor Vangie and her wife Tracy. We kept in touch via social media and when
we moved to New Mexico we became members of RSCC.
John 1:14, Ephesians 1:7